Want to Hire Best Pest Control Services in Kolkata
Till now, well if one reads some of the blogs, they are going to have a good idea about what pests are and how harmful they can be to humans. But, for the reader's easy relevance, we shall go over the topic of pests again. Now know about Best Pest Control Services in Kolkata here in detail.
Pests can be defined as any creature that harms us in any way, shape, or form.
It can be by harming the crops, the materialistic things, the live stocks, the furniture, or most importantly the health of the humans living in the place.
Where the pests are infested and in places like Kolkata the infestation is large. And that seems like reason enough to plan on getting rid of the pests. 
Quality Pesticide Services Goodbye Pest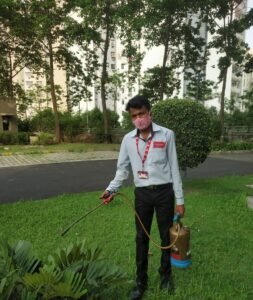 Various household techniques would get the job done for you, but are they that effective? Some of them claim to kill them, some claim to irritate them to the point that they leave their nest.
But, does that mean that they'll never come back? My bet is on 'NO'. And a no means no. 
When one thinks about this issue carefully, they will narrow down the options to taking help of Pest Control services for getting rid of pest infestations around us.
To support this choice, there are things that one might need to think over. 
Firstly, it makes things a lot easier for everyone. 

Secondly, the risk of the pests returning reduces by a ton.

The third factor, the services do not cause any side effects on the health of people.
That should sum up almost all the basic concerns and their solution as to why one should go for Pest Control services.
Benefits of hiring Good-Bye Pest Control 
As mentioned earlier, we know that insects are a part of our ecosystem and also a nuisance in our daily lives. Here you can know about the benefits of Goodby Pest.
So, our main purpose here is to protect our home and property from such things. So the main reason for the growth of ants is global warming and natural disasters. 
Here we can control global warming, not disaster, so reducing the use of plastics is one step ahead for pest control like ants.
If we become aware of Pollution, global warming will be reduced by 50% of insects (ants, mosquitoes, cockroaches, bed bugs, fireflies, rats, house flies, wasps, spiders).
If we think about it scientifically, we know that we, humans, are the main cause of the rapid growth of insects, and we Hunters too. 
In this age of lockdown, most of us live indoors, and with us there, our children, the elderly, and maybe even some patients who suffer from asthma, can be very dangerous to such people. To solve those problems, we should know their side effects without using different types of powders, sprays, pesticides and this should not be done without our professional advice.
So wherever we are, Goodbye Pest provides a safe and effective pest control service for both residents. The most affordable commercial type.
Goodbye Pest Company has our professional trainers and distinguished staff who help eliminate pest infestations from our apartments without harming children, the elderly, and patients. 
Their products are completely herbal and processed organically so that they do not harm any other animals such as pets, useful insects, etc.
Number #1 Pest Control Services Goodbye Pest
Dangerous pest infestation is increasing day by day and it is now out of human control, so the best way to get out of this kind of problem is to consult our experts and some companies who are taking the initiative to control these problems.
Insects are not only dangerous to the property of the apartment but also affect the property of the organization such as the food factory. 
So, if we want to get rid of it completely, we can use one kind of herbal pesticide. But we need to be aware of the limited use of phenyl so that these products can kill useful insects.
If we can use organic products, it will be the most suitable solution because the extreme use of pesticides and inorganic substances has a bad effect on the human lungs and these things are very dangerous for children.
So, it will be if we go ahead scientifically so that we can control these evils and get rid of ants without harming any beneficial organism.
Experience Chemical-Free, Herbal, Less-toxic & Hassle-Free Pest Control with Goodbye Pest
Goodbye pest also provides a consultation session here, in this session, we discuss how to control different types of pests, as well as what we can take the initial steps and how our company cooperates with you to get rid of pests.
We have hired qualified trainers here who can give you the best advice for these issues, even if they will be available to you at all times.
Everyone can now Experience Chemical-Free, Herbal, Less-toxic & Hassle-Free Pest Control as Goodbye Pest being the best pest controller in Kolkata is providing low-cost effective services.
After all, Good-bye pest is always there for you to get rid of dangerous insects through a combination of methods, scientific methods, and a comprehensive process of pest control.
That's why Good-bye pest is India's leading digital and responsible home hygiene and pest control brand.
Be aware of these pests which can be very risky, if you want to destroy all kinds of infestations, do not hesitate, just visit our website, and you will get all the details you need.
How is Goodbye Pest different from the other Pest Control Service?
Pests are small organisms that usually stay hidden in our houses, factories, and in some other places like damp places, which spread diseases and create a nuisance. So to eradicate them we use pesticides and opt for professional pest control.
Also sometimes, people use DIY pest controls. There are many types of pests like ants, termites, cockroaches, rodents like mice, bugs, etc. 
Effective Pest Control Services in Kolkata
Pest control is something that takes a lot of patience and expertise. A small mistake can lead to failure and will not give fruitful results.
So it is advisable to choose professional pest control wisely. There are many pest controls in the market of Kolkata.
But finding the right one takes time; Because everything is becoming costly day by day and in this pandemic it is getting difficult. 
In that case, Goodbye Pests comes in hand. Goodbye pest gives services in Kolkata. It provides quality service with utmost care which sets itself a class apart from the other pest control companies.
These are some points which makes goodbye pest different from others:-
Schedule an Appointment Goodbye Pest & Call the Expert
In this period of crisis and a high rise in price, not everyone can afford professional pest control which will make their house free from pests. As a results pests roam around their house and cause many infectious diseases. So people try to do DIY pest controls. That also does not work properly. This causes suffering. 
Goodbye pest charges a very pocket-friendly price than other pest control companies which people of all classes can afford. It gives a high-class service with such a cheap price range that everyone can afford and have a squeaky clean house. 
Fix a Schedule with Goodbye Pest for Pest Free Home
Goodbye pest has some of the best pest control experts who do their job with extraordinary expertise. This pest control company uses modern scientific methods which do not have any kind of side effects. Everything is handled with care. Fix a schedule for pest control.
Usually, pesticides are made up of many chemicals. As we all know, these causes immense harm to our health. Children play and roam everywhere in the house. So proximity to those chemicals is not good for kids as they may suffer from diseases. 
Herbal Pest Control in Kolkata
Goodbye pest uses nontoxic chemicals which are not at all detrimental to health. They maintain all types of precautions before spraying pesticides.
Goodbye pest also uses organic materials for the eradication of pests.
So everyone including kids and pets is safe from those harmful chemicals and does not fall sick.
Goodbye pest tries to maintain a good relationship with clients. Our customer service care is open every time and provides services 24*7. They cater to all kinds of difficulties customers face and answer all queries. 
It provides services all over and every place of Kolkata be it north Kolkata or south Kolkata, be it a big complex or a house in a small unknown lane. Our service is everywhere.
Awesome Pest Control Service Providing by Goodbye Pest
As a Pest Control Service thriving in the heart of the city, GoodBye Pest is sworn to provide you with everything which is the best. We always make sure that we never compromise quality for quantity. We look forward to gifting you a Pest-Free Society. 
The services of GoodBye Pest are diversified to shield you from all types of pests that destroy your belongings, health, food, and most importantly your peaceful life. GoodBye Pest has cockroaches, Ants, Lice, Bed Bugs, Houseflies, Rodents, Snakes, Wasps, etc. 
Contact to getting Rid of Pest with Guaranty
Goodbye Pest provides expert service in written guaranty at your doorstep, one phone call and we are there to help you from the scuttling devils in your house.
Our services are provided to the food production company, packaging plants, wineries, import and export centers. Contact us for Free Consultation about termite pests.
Getting our service is very easy, you can always contact us directly through the phone, or get a quote for yourself on our website. We are always eager to serve you no matter how grave the infestation in your house is.
Goodbye Pest is the place where quality and expertise are mixed in perfect proportions to treat with a lifetime experience of pest control that gives you 100% satisfaction and value for money. 
No matter wherever you live, you can always take our service, from New Town to Lake Town, and from Howrah to Dumdum, ring us once and bid adieu to the pests in your house.
Using Chemicals Responsibly for Pest Management Services
Pest Control is all about getting rid of the pest by eliminating them from our vicinity or better kill them off to ensure the permanent safety of the family and home. To achieve this goal pesticides and insecticides are the only weapon that mankind has.
But too much of anything is bad, so is the case of using chemical pesticides, these pesticides are toxic, and too much of their use or rather a misuse can cause serious consequences. 
To not let that happen, Goodbye Pest uses nontoxic chemicals to eradicate the pests from your house. Our experts make sure that our customer's health is not at all compromised and handles the pesticides or pest repellent sprays, fumigants, or pastes with the utmost care, precautions and apply them in your home properly and scientifically.
So that you or your loved ones are not affected by any of the chemical pesticides which we are using. Goodbye Pest is sworn to provide you with the best, hassle-free, and side effects-free pest treatment, and let you and your family thrive at the pink of your health and spirit.
Taking Care of Health with Proper Precautions During Pest Control Services
Before knowing about the precautions that one can take against the pests, one needs to know about the kind of pests that infests one's home. There can be various types of pest infestation, ranging from little flies to the creatures like birds.
One might also face creatures like ants, rats, mice etcetera in the name of pest infestations. Amidst this range, lie the infamous mosquitoes, cockroaches, and the secret resident of our family, who is somewhat like an unwelcomed guest, i.e. the bed bugs. They sleep with us. But, not always are they found on our beds. 
There are a lot of precautions that a person can take, but before coming to the precautions, one might be interested in learning how to detect any infestation; for, the best precaution along with action would be knowledge.
Cleanliness tops the list when one considers precautions against pests. Keep the kitchen, bathrooms, dark places clean for they are subjected to maximum risks.
One can go for using essential oil sprays. For example, tea tree oil mix with water acts as a great repellent for pests. One just needs to know the right ratio to mix it.
Various DIY ideas have been discussed in previous blogs. Also, proper disposal of garbage is necessary because it is an ideal habitat for pests. Fixing nets on the windows can somehow reduce the entry of pests.
There won't be any interruption with the ventilation of the room, and the pests shall find a watch-person waiting for them at the entrance.
And, if somehow, the pests are successful with creating infestations in the household, the first thing to be done would be, detecting it. And, the next step is as we all know, calling the pest control for, they are only one call away.
Mission: To make Pest Free Life in the City
As we all know pests are detrimental to our health. So pests are needed to be taken care of. In that case, pest controls come in hand. Some people opt for DIY pest controls by themselves but they are not as effective as professional Pest Controls.
Nowadays it is kind of difficult to find efficient and effective and at the same time pest controls which are easy on the pocket in Kolkata and everywhere outside Kolkata. 
Goodbye pest Provides a premium service with extreme expertise at such a reasonable price. They handle everything with utmost care so that the pests are eradicated. They intend to make your house pest-free. 
Ethics of Goodbye Pest: Best Pest Control Services
Not everyone can afford professional pest control for their house as professional pest controls are very expensive. So, Goodbye pest has been set a very affordable price range keeping in mind all classes of people so that everyone can enjoy the services provided by professional pest controls.
We know very clearly that pesticides are made up of a combination of many complex chemicals which are usually harmful to human health especially for kids who play and roam everywhere in the home.
So everything keeling in mind, Goodbye pest uses chemicals which are not toxic and are not that harmful to us. They also use organic things to drive the pests away from the house. 
Vision: To serve you the best quality pest control
"Precaution is better than cure"; Goodbye pest always takes precaution before taking any action. 
Goodbye pest intends to provide services all over Kolkata from Jadavpur to dumdum, basically everywhere in Kolkata. And our customer care service is open 24*7 for any queries and services. 
So from now on if you have any problems with pests just give us a call, Goodbye pest will be present at your doorstep for taking care of your house.
Social and Environmental Responsibilities 
In the tiring times of pandemics, pests have become very vulnerable and they are infesting households due to the lack of habitat and changing climate.
Due to the rise in temperature because of Global Warming, and the countless urbanization of rural areas.
Pest infestations have increased many folds in the past decades due to the change in social and environmental conditions. That is the reason for having situations like that of Locust Infestation in the Central Western parts of India. 
So, Goodbye Pest, keeping in mind the crying demand of the society is always armed to take up the social and environmental problems and save you from the pangs of pests which are inseparable entities of the environment but are hindering the social advent. 
Now to keep up the social advent, the ecosystem is disrupted, many would counterargue, but GoodBye Pest is also aware of environmental distress.
They provide various noble offers of gifting saplings to their customers on World Environment Day to increase the tree population, so on one hand they eliminate the pests and on the other promotes environmental and social awareness.
Well, that's what a savior does, eliminates the evil and nurtures the good. GoodBye Pest is always sworn to protect you from pests, thereby ensuring environmental and social safety.
Pest Control Services Goodbye Pests Offer
As we have said before, many types of insects like ants, mosquitoes, cockroaches, bed bugs, fireflies, rats, house flies, sculptures, spiders, accumulate in lawns, broken pipes, cracks in pavements, tires, etc.
They spread a variety of diseases such as malaria by mosquitoes, salmonellosis by cockroaches, typhoid fever, and cholera and their abode are mainly kitchens, dirty corners, crawl spaces.
Rats, which can wreak havoc on human civilization and its most endangered species because it is found in hantavirus, lymphocytic choriomeningitis virus, plague, salmonella, tularemia, etc.
In spider basement areas, bathrooms, garages, and tetanus, Lyme disease is found in domestic kitchens, bathrooms, dirty places and it spreads like urinary tract infections, diarrhea, typhoid, cholera, and some helminth infections.
Conclusion
Dangerous pest infestation is increasing day by day and it is now out of human control.
So the best way to get out of this kind of problem is to consult our experts and some companies who are taking the initiative to control these problems.
So, here Goodbye pest provides safe and effective insect control services in Kolkata for both residential and commercial purposes at the most affordable prices.
Goodbye Paste Company has our professional trainers and distinguished staff who help to remove the pest infestation from our apartment without harming children, the elderly, and patients.
Their products are completely herbal and it is processed organically so that these products do not harm any other animals like pets, useful insects, etc