Termite Control in Kolkata is not so easy. As Kolkata not only the city of joy but also the city of termite also. Our beloved city Kolkata and Howrah is situated on the bank of the river Hoogly. The atmosphere here is neither too cold nor too hot. Humid weather and moisture make the breeding ground of various pests including termites. We in Goodbye Pest provides the best termite control company in Kolkata. We provide Free termite Inspection in Kolkata and guaranteed service in Termite Control.  Only the quality can make us different.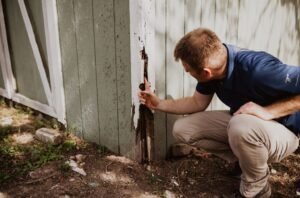 Why do we use it?
Early detection of termite infestation is very important to restrict huge damages to your dream home or assets. Termite not only ruins your home, but it may also damages your belongings like currency, clothes, books etc. To prevent earlier you need to go for yearly asses of termite infestation probability. As always prevention is better than cure.
Benefits of Free Termite Inspection Kolkata
Only a certified trained professional pest controller can identify the analysis of the present scenario of the premise. Only he can give a perfectly and thoroughly customize plan and proper suggestions on what to do.
Identify the level of infestation or probability of infestation
Risk Assessment and Analysis Report
Free Internal Pest Audit cum Inspection Report
Plan of action
Methodology of service
24 x 7 Support
State of the art protocol
Maintaining all the parameters of Safety and Hygiene standards.
Free Termite Inspection in Kolkata
How Can We Give Free Termite Inspection Kolkata
Goodbye Pest conceives that being a business in a society they have some social responsibilities and duties with their capability. Goodbye Pest always plans to do something. Like earlier, they took part in various social activities free services during the dengue outbreaks, free food, and clothes distribution during lockdown for COVID.
FAQ | Termite Control Inspection in Kolkata